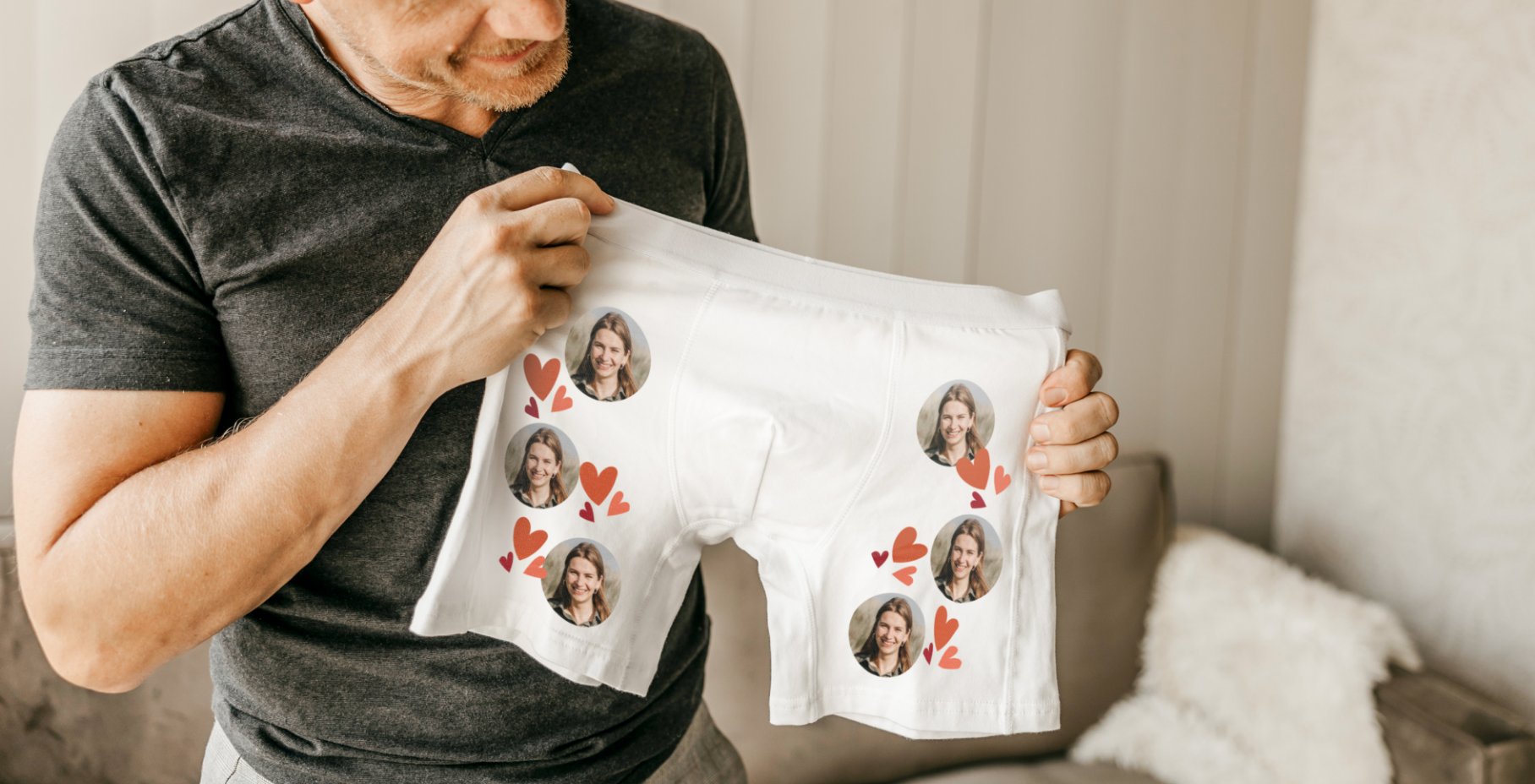 Personalised Socks & Boxers
Looking for a fun, original gift? Go for personalised underwear featuring the photo of your choice! 
Create your personalised underwear: Personalised boxers & thongs
Ever considered adding a personal touch to your underwear? With our selection of personalised underwear, this is now possible. Imagine this: a pair of boxers or thongs featuring your own unique design. Personalised underwear is a fun gift for an anniversary, a bachelor/bachelorette party, a birthday or whenever you want to give someone a funny gift!
How to personalise your underwear
Our selection of personalised underwear includes:
Personalised Boxers: These aren't your ordinary boxers - they can be personalised with a photo of your choice. Whether it's the recipient's face or an image relating to an inside joke; you can have it printed right onto the boxers.
Personalised Thongs: Want to spice things up? Add the photo and text of your choice to our personalised thongs. Express yourself fully, in a way that's truly intimate and personal.
But how does it work?
First, you choose the underwear style you want personalised.
Next, you upload the photo you want printed on your underwear. You can also add a small design.
If you've chosen our personalised thongs, you'll also have the option to add a text.
Once your design is ready, place your order and we'll take care of the rest.
Personalised underwear for her
The best personalised women's underwear can be personalised! Create a unique personalised thong with a fun photo that will make the recipient laugh. You can also add a name, text or special date. Our thong is a standout amongst ladies' underwear. These aren't just your average thongs, they are a canvas on which you can express your individuality and flair.
The personalised underwear for her is available in the colours red and black and in 3 different sizes: S, M, L.
If you prefer something different, our boxer shorts with a photo are the perfect choice!
Personalised underwear for him
Looking for that perfect unique gift for the special man in your life? Or perhaps you're simply looking to add a touch of individuality to your own underwear drawer? Our personalised mens underwear is the right choice to make him smile with a great original gift!
Our personalised boxer shorts come in 3 colours: white, black or pink and 3 sizes: M, L, XL.
How to make personalised underwear?
Personalised underwear is a unique way to express oneself and make a statement. The personalisation process for underwear involves using advanced printing technology to transfer an image or text onto the fabric of the garment. This process ensures that the design is long-lasting and won't fade or peel off after washing. But don't worry; ordering is easy!
1. Choose the personalised underwear
The first step in the personalisation process is to select the type of underwear you want to personalise. The options available include boxers and thongs. Once you have selected the type of underwear, you can then choose the colour and size that best suits the recipient you have in mind.
2. Select your personalisation
After selecting the type, colour and size of the underwear, you can then upload the image or text you want to be printed onto the garment. The image or text can be anything you desire, from a personal photo to a favourite quote or slogan.
3. Your gift is created
Once you have uploaded the image or text, the printing process begins. The printing technology used ensures that the image or text is accurately transferred onto the fabric of the garment. The result is high-quality, personalised underwear that is unique to you.
4. Ship to an address of your choice
After the printing process is complete, the personalised underwear is carefully inspected to ensure that it meets the highest quality standards. The garment is then packed up and shipped to your chosen address, ready to wear and enjoy.
Personalised underwear is a great way to add a personal touch to your wardrobe or to give as a unique and thoughtful gift.