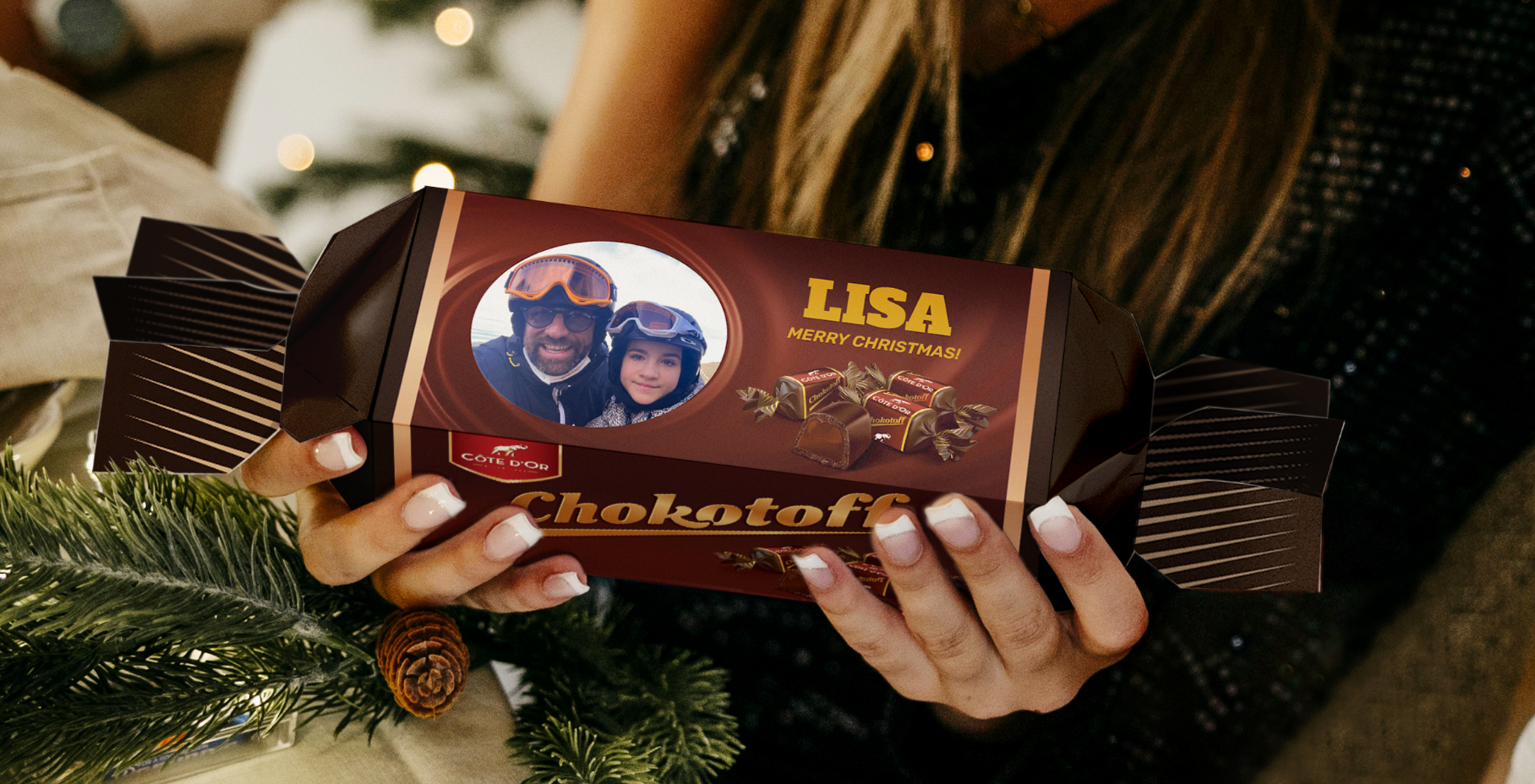 Personalised Chocolates
Chocoholics unite! At YourSurprise, we have everything you need to satisfy a sweet tooth, with a wide range of personalised chocolate gifts from photo chocolates to branded Toblerone, KitKat and Milka gifts.
You've seen 48 of 63 gifts
Personalised chocolate gifts for any occasion
Now we all have at least one chocoholic in our lives, whether it's a loved one, colleague or yourself. Chocolate is, of course, the answer to many things; celebrating love, soothing heartbreak or even just treating yourself after a good or bad day. Snuggling up with a cuppa and some chocolate is never a bad idea. Whether it's white, dark or milk chocolate, there's almost no-one who wouldn't be happy to receive a chocolate gift. Our chocolate gifts can be delivered straight to the recipient's address, in a festive box and including a personal message card. If you're not sure when the recipient will be at home to receive the parcel, go for a chocolate gift that will fit through their letterbox. A personal message card can be added to each gift, so that the recipient knows who their gift is from.
Chocolate for him, for her, for them.. for everyone!
We have so many personalised chocolate gifts available, that there is truly something for everyone and every situation. Chocolate for your dad, mum, brother, sister, as wedding favours or as a thank you to your neighbour. The best part is that each gift can be personalised with the photo and/or text of your choice, making it unique. We offer delicious chocolates in a luxurious gift box, but have many, many more unique gifts also. Have you ever had your favourite photo printed on chocolate? Or sent a chocolate telegram? We're guessing you probably haven't!
Gifting personalised chocolate
We can personalise all of the chocolate gifts in our assortment, which means you will always have an original gift. Not just any old chocolate, but chocolate featuring the photo, name, text or design of your choice. From tasty photo chocolates to our chocolate telegrams, each chocolate gift can become a photo gift or text gift. Your photo or text will be printed on the chocolate with great care and attention, fully edible and delicious. We offer chocolate gifts in various flavours and shapes, such as tasty heart-shaped Milka chocolates or a giant Toblerone bar weighing in at a whopping 4.5 kilos. If you're looking for chocolates to share, go for individually wrapped chocolates. We can add your photo to each chocolate, making them a perfect treat to share at the office or parties. Another original idea is to create a chocolate puzzle or chocolate card featuring your photo of choice. If you're looking for a delicious chocolate gift, you can find the perfect chocolate gift for every budget at YourSurprise.
Sending a chocolate telegram
Our chocolate telegram is a great gift if you're looking to send someone a sweet message. Select from 14- to 60-letter telegrams to get your message across. The smallest telegram consists of 14 letters and is perfect for a short message. If you have more to say, go for our 60-letter telegram. Each letter is an individual chocolate. The chocolate telegram is a wonderful way to let your parents know they're going to be grandparents! Tip! Add an extra surprise for your parents by scrambling the letters before gifting them the chocolate telegram! You can order the chocolate telegram with a fun gift tin, if you prefer. This gift tin includes 35 chocolate letters.
View our chocolate telegrams >
Chocolate puzzle featuring your photo in luxurious tin
A tasty gift for grandparents, first Mother's Day or Valentine's Day; our gift tin of chocolates. We print one photo onto several chocolates, creating a kind of puzzle. You can even scramble the chocolates, in order to make it a challenge and extra surprise for the recipient. Choose from solid chocolates or pralines.
Personalised chocolate greeting card
Surprise a true chocoholic with a fun chocolate greeting card. The chocolate greeting card is one solid piece of chocolate measuring approximately 16 x 10 cm. You can add one large photo and a personal message to be printed on the chocolate greeting card. The card consists of milk chocolate, with a top layer of white chocolate. The chocolate greeting card is a great way to announce your pregnancy to family and friends by adding your ultrasound photo, or to announce your engagement. Grandparents would love to receive a tasty chocolate greeting card featuring a photo of their grandchildren. Perfect letterbox gift! The chocolate greeting card is also a great way to show your employees a little appreciation for all of their hard work.
View our chocolate greeting card >
Individually wrapped chocolates to share
If you're looking for chocolates to share or hand out and would like them to be individually wrapped as well as personalised, go for our individually wrapped chocolates. Perfect as wedding favours. Select from solid chocolates or pralines.
View our individually wrapped chocolates >
Chocolate advent calendar
From the end of October, you'll find our fun advent calendars on our website, filled with delicious chocolate. You can personalise the advent calendar with the photo of your choice. A lovely gift to surprise a loved one with at the beginning of December!
Photo on square chocolates
For those that love pralines or chocolates, we have the option to personalise 15, 24 or 60 with the photo of your choice, with the same photo printed on each individual chocolate. A great gift to share with colleagues or large groups. If you'd like to announce your pregnancy to colleagues in an original way, create a fun message to be placed on each chocolate!
Photo on chocolate hearts
If you love someone to the moon and back and would like to surprise them with delicious chocolate, have your favourite photo printed on chocolate hearts or one large chocolate heart. You can choose from solid chocolate or chocolate with a praline filling. A wonderful gift for Mother's Day, Valentine's Day or just because.
View our large chocolate heart > View our heart-shaped chocolates >
Chocolates in a luxurious gift box with personalised packaging
If you would like to surprise a loved one with tasty chocolates in various flavours and with various types of filling, go for our luxurious box of chocolates. We will print your photo on the beautiful packaging and can add a personal message, too. The chocolates are inside a fun gift box and include flavours such as exotic hibiscus-orange and traditional praline.
View our luxurious box of chocolates >
Photo on chocolate squares
If you would like your photo printed on chocolates, we can offer various chocolate squares. Each chocolate consists of milk chocolate with a white chocolate top layer. The photo is printed across all of the chocolates and all together show your photo.
Personalised Toblerone bar
Who doesn't love a bar of Toblerone chocolate? We can print your name, personal message and photo of choice on the packaging with the classic Toblerone look, making it truly unique. We even offer a 4.5 kilo bar for real chocoholics!
Personalised Tony's Chocolonely chocolate
Another great gift is our Tony's Chocolonely chocolate in a personalised gift box. You can add a sweet text and photo to the inside and outside of the box. The Tony's Chocolonely gift box is available in two flavours: milk chocolate and caramel-seasalt.
View our Tony's Chocolonely gift boxes >
Personalised Milka gift box
If you're looking for a gift that will always go down a treat, surprise them with a delicious Milka chocolate gift box, available for any occasion. Surprise your lovely mum with a Mother's Day Milka gift box, or create a personalised love-themed Milka gift box for your special someone. All Milka gift boxes include chocolates filled with a delicious, soft hazelnut-nougat creme that will make your mouth water. The perfect tasty gift!
Have chocolate delivered straight to their address
If you'd like to surprise someone with tasty chocolate, but are unable to make it to their address to hand over your gift in person, have your gift delivered straight to their address! We can send any of our gifts to the address of your choice, whether it's a tasty bar of Toblerone, Milka gift box, Chocolonely gift box, personalised chocolates or Easter eggs.You can even add a free personal message card, to let the recipient know why they're receiving this gift and who it's from.