Promotional gift do's & don'ts
If you're looking for a promotional gift but are struggling to find one, keep reading for our 8 tips on selecting the perfect promotional gift.
Tip #1: Let the gift work for you
A promotional gift is given to let someone know you enjoyed working with them and to thank them for their efforts. While the gifting moment is fun, what happens to the gift afterwards is important, too. Will it end up collecting dust or is it a practical gift?
Take a look around your own company or think back to promotional gifts that you have received in the past. What did you end up using? What ended up in a cupboard or on a shelf somewhere? Are there any gifts that you've received so many times that most are unused? These kinds of gifts are an unfortunate waste of money and resources.
If you are selecting a promotional gift, select a gift that:
will actually be used
can preferably be used several times
hasn't been given before
Examples of these kinds of gifts are:
Tip #2: Investment or expense?
You can make your promotional gift as expensive or cost effective as you wish. The big question is: do you see promotional gifts as an unnecessary expense or as an investment in the business relationship?
The danger here is that this can become a self-fulfilling prophecy: if you see promotional gifts as an unnecessary expense, you'll skimp on the gift, which means it will most likely be an impractical gift without any real use. This also means it's less likely to be appreciated by the recipient, meaning it won't be an investment in your working relationship.
However, if you view promotional gifts as an important part of your business relationships, you will apply higher standards and select other types of gifts.
But how will you know if giving a promotional gift has made any difference and wasn't just a waste of money?
We would consider a promotional gift successful if:
giving it offered you an opportunity to contact your customer again
the customer thanked you personally for their gift
the customer used their gift
the customer shared your gift on social media
If you're thinking of giving your employees a promotional gift, the following would apply:
employees are talking about the gift at work
employees share their gift on social media
employees have thanked you personally for their great gift
These are the criteria we use to determine whether or not a promotional gift was a success. If your gift has the same effect, it is likely to lead to customer or employee loyalty, which means repeat orders and hard-working staff.
Tip #3: Make it personal (in a good way!)
The best promotional gifts are those that make people feel seen and appreciated. It can be difficult to take into account everyone's personal preferences when deciding on a promotional gift, but there is a way to ensure that every single one is truly personal: by personalising them!
Personalising your promotional gift means that you can add a name, photo, logo and/or personal message to each individual gift. So they won't just receive the same water bottle or beach towel, but their very own personalised water bottle or beach towel.
Now you may be worrying about the cost, but let us reassure you that it needn't be an expensive affair. We can personalise each and every item in our webshop for you, with no minimum order quantity.
All you need to do is provide us with a file containing all of the necessary information and we'll do the rest. We can even send each individual gift to a separate address, making the process even easier for you, even if you're unable to gather all of your customers or employees in one place. All information is safe with us, of course, as we adhere to GDPR at all times.
Examples of our promotional gifts:
Tip #4: Online orientation or trusting an expert
Most people start their orientation online, which is great but can be overwhelming with so many different companies and often very little variation in the types of gifts on offer.
Our advice would be to ask an expert; call the potential supplier, explain what kind of gift you're looking for and what you hope to achieve by giving it. A true expert will know exactly which gifts fit the brief and can help you to give it an original twist.
We worked with an escape room company to come up with a truly original promotional gift that allowed them to contact all of the customers they had welcomed during the year. Read all about it in this
case
. We can tell you that the gift this company sent their customers is pictured below!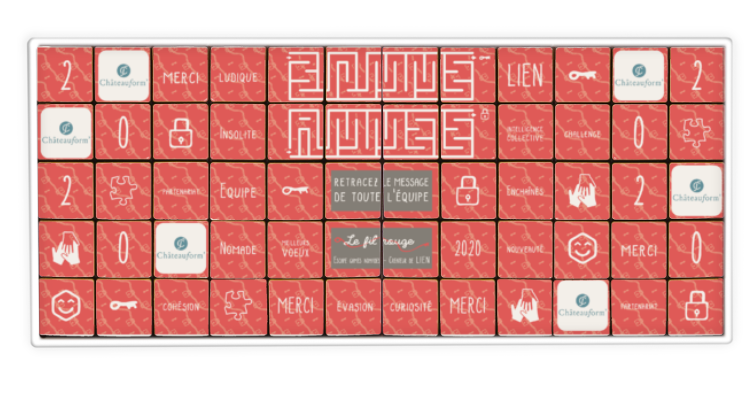 Tip #5: More than Christmas
For most companies, Christmas is the chosen moment to send out promotional gifts. We understand as this is a big moment, but there are other important moments which are good to keep in mind, such as Teachers' Day and Administrative Professionals Day.
We are also seeing more and more companies choose to surprise their employees that are working from home. This doesn't have to be with a big, expensive gift, of course. Most companies choose a tasty treat, such as a
personalised Toblerone bar
,
personalised Milka gift
or a
personalised puzzle
.
Tip #7: SCR
When considering promotional gifts, don't forget to keep the SCR (Social Corporate Responsibility) in mind, as this plays a big part these days and will continue to do so.
If you're looking for a sustainable promotional gift that, why not consider a cool
eco-cotton tote bag
,
aluminium water bottle
or
engraved glass decanter
.
Tip #8: Don't leave it too late
We know you know, but it's an important one to include; make sure you select and order your promotional gift on time, especially if you're on a deadline for Christmas or an event.
Some companies start selecting Christmas gifts as early as July. If you're not quite that organised, don't worry!
In most cases, we can send out your personalised promotional gifts as early as next-day, with the obvious exception being during the Christmas peak period. If you'd like to order a promotional Christmas gift, we advise you to do so before 14 December.
It's important to start looking for a promotional gift for an event on time, too. However, if you're running a little late, please know that we can create your order in-house, making it easy for us to offer a quick turnaround.
If you're in a hurry, contact our B2B department at b2b@yoursurprise.com for assistance.
If you'd like some more gift inspiration, check out all of our promotional gifts.

Our favourites: