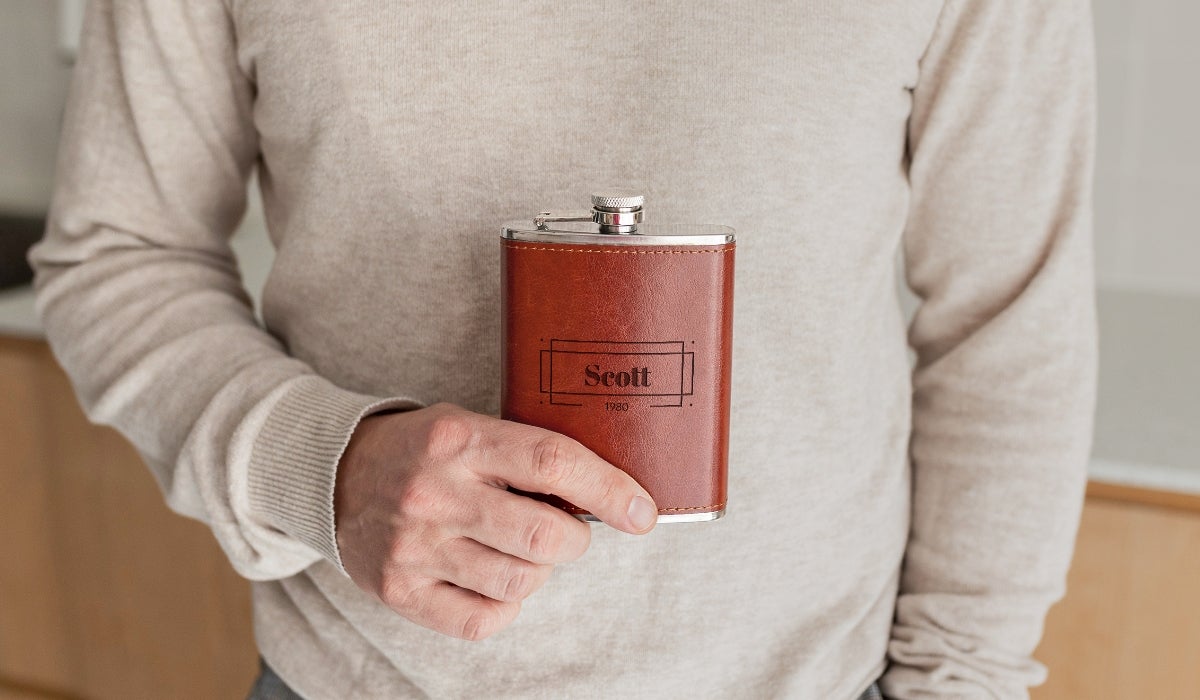 Personalised Water Bottles
A selection of water bottles personalised with the photo or text of your choice. Create your own personalised thermos mug to store your favourite hot and cold drinks.
Personalised water bottles, travel mugs and beakers
They are immensely popular: handy water bottles that can hold plenty of water, coffee or tea to get you through the day. Would you like to create a handy water bottle or thermos flask? Or would you like to give your child a beaker to take to school featuring their very own photo or name? Simply design your water bottle, travel mug or beaker online! You can choose from various types of bottles, thermos, flasks and beakers.
Personalised water bottle
Plenty of water bottles in our assortment are perfect for sports and workout sessions. The bottles are made of strong aluminium, making them nice and sturdy. The bottles all have a cap that protects the mouthpiece. Simply unscrew the cap to refill the bottle. The capacity of the bottles is 500 ml, more than enough to last a while! Select a cool design in our editor, upload a photo or add a name to create a unique water bottle in no time.
Personalised thermos mug
If you're going on the road for a while and want to take a nice hot or cold drink with you, you'll need a handy thermos mug. The thermos mug has a sliding lid with which you can open the mug and drink from it. When you are finished, simply close the sliding lid. The bottle is made of white aluminium and has a black handle. The thermos mug will keep your hot drink warm for up to 6 hours, long enough for that train journey or car ride! You can rinse the thermos mug by hand. We would advise against washing the thermos mug in the dishwasher, to keep the print perfect. The thermos mug can be personalised with the name, photo and/or text of your choice.
Personalised thermos flask
We also offer a number of beautiful thermos flasks in our range. These bottles are double-walled and therefore suitable for keeping your cold drink cold or your hot drink warm. The thermos flasks have a capacity of 500 ml and are made of stainless steel. You can choose between a thermos flask with a twist cap, one with a mini straw or one with a bamboo top. They are available in silver and white. You can add your own photo, name, text or logo to the thermos flask. If you want to create your own special bottle, take a look at our online editor to see which designs you like.
Designs in our editor
In our online editor, you will find various fun designs with which you can personalise your water bottle. Choose from a print featuring flowers, leaves, tigers, oranges or one of our many other cool designs. You can add your name and photo to our designs to create your own unique thermos flask.
Personalised school beakers and bottles
Of course, we also offer a number of fun school beakers in our range for your child to take to school. These beakers are available in blue, green and pink. They are made of super-strong BPA-free plastic. Choose from fun designs featuring a flamingo, a fox, a koala bear, a lion, a whale or any of the other sweet designs. Upload your child's favourite photo and add his or her name to create a unique mug for school. Ideal if your child often loses their beaker; the owner can be found in no time!
Your own personalised mug, bottle or flask in no time at all
Creating your own mug, water bottle or thermos online is easy. Simply choose the product you wish to personalise and start up the editor. Select one of our lovely designs, upload your photo and add a name or text. No minimum order quantity and ready in no time at all.