Reading together is fun!
Sitting down together on the bed to read a story together. Is it part of your bedtime ritual yet? If not, we highly recommend it! Reading together is lots of fun and allows you to spend some quality time with your child. It also creates a nice, calm moment to talk and have each other's full attention.
Why is reading so important?
Being read to is important for your child's development. It stimulates them to think creatively, relax and enjoy the story. Your child learns to empathise with the characters, which shows them that there are several sides to a story and everyone experiences things differently. Children that are read to often have a wider vocabulary than those who aren't read to. Reading isn't just fun, it's beneficial in many ways!
Allow your child to participate in the best stories
Did you know that your child can participate in stories? Our collection includes books galore, for every type of child. Each book can be personalised with your child's name and/or photo, creating an extra-special story for you to enjoy together.

Check out all of our books for children >>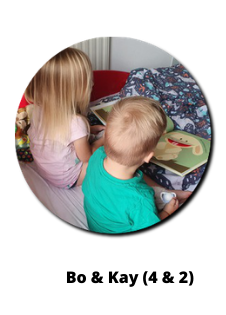 What do they think?
Sandra, mum to Bo (4) and Kay (2)
''We chose the 'Everyone is yawning' and 'Dear Daddy' books. Bo recognised her own name in the books immediately! They loved being in the story so much. The book about yawning has become a firm favourite and is read almost every day.''
If you would like to read with your little one, check out our book recommendations below.
Handy: Fun books about important subjects
Teach your little one all about friendship, that sometimes things can hurt or to go on the potty. Or tell them they're going to have a little brother or sister!
Great fun to read together: lift-the-flap books & bestsellers about mum and dad
If you'd like your child to participate while enjoying the story, go for one of our cool lift-the-flap books. Fun guaranteed with a surprise under each flap!
Or enjoy one of our fun books all about mum or dad.
Which book will you read?
If you're feeling excited and ready to start reading together, check out our full collection of books for kids. Each book can be personalised with your child's name and/or photo, which is easy to do in our online Editor.
Gift tip: A personalised book
Our personalised books for children make great gifts, too. All of the parents we've spoken to agreed that they would love to gift one of the personalised books to one of their loved ones. A personalised book is a beautiful gift for now and keepsake for when they're older.